Think back to some of your biggest career regrets; do you see them as learning opportunities or is it that chapter of your professional life that is never mentioned? Marketing & Comms Consultant, Fellaris Wambui, shares her biggest career regrets and the knowledge she gained from her experiences.
I'm sure most, if not all, of us have made some mistakes professionally and look at them as our biggest career regrets. It's only natural to focus more on where you failed than where you're winning. The important thing is not to look back for too long or you might lose your way.
Fellaris Wambui knows about this all too well, but she chose to look at these experiences as a learning opportunity. Speaking of opportunities, how do you know when one has been presented right in front of you or where to find them? She shares her insight below. Enjoy!
In your interview with The Gurl's Club, you said you find it hard to introduce yourself, but how would you describe Fellaris the Marketing and Comms guru, and Fellaris the cat mom?
(Laughs) It's become very apparent that I really love my cats.
I'm a 31-year-old woman working in the marketing and communications space specifically in the construction and manufacturing industry. I am a lover of animals - at one point, I want to have a farm filled with very many animals. Maybe at that point, I will be Fellaris who owns a farmhouse (laughs) and not just a mum to two cats. 
In addition to that, I cover the entire spectrum of marketing and communications. I also do  PR, which also includes events. 
It's very apparent that you're passionate about marketing and communications. At what point did you know marketing and communications was "your happy place", and how has the journey been so far? 
I'm a good communicator naturally. However, I never understood how that would play into what I do today until about 12 years ago. In 2010, I was working as a volunteer at the Nairobi Hospice in their PR and Events office. The job entailed a lot of communication with people and being part of networking events. I remember thinking it was something I did so easily and growing up my mum told me, "Pay attention to things that come to you with ease where you do not have to overly exert yourself." That has always run at the back of my mind. 
In 2012, I found myself in a very different work environment and I noticed a gap in communications. I asked my bosses at the time to let me do something about that because there was potential there. The fact that I had seen an opportunity and was willing to put in the work to build it up and also learn in the process, was rather new. In that moment, it became very clear to me that this was something that I wanted to do.  I think I had put myself on a path that I'm happy with and I have not looked back since then. 
What made it easy for you to figure out what you wanted to do with your career? 
I think it's the fact that it clocked in my head and I knew that I wanted to be in the corporate space. How that looked like was not clear but I had to start from somewhere and found a place to dig my foundation. Everything ahead of me was still very blurry, but at least I had found something that I would happily be in at that moment, which was communication and marketing. 
When we were chatting sometime back you mentioned your biggest career lesson is saying "yes" to growth opportunities. Is there an opportunity you wish you should have taken?
Actually, can I flip that and ask, "Do I wish there's an opportunity I had not taken?" The answer is yes. As much as we say "yes" to opportunities, we also need to sit down and not get carried away by what they offer; be very myopic in how you look at them and turn some of them down. 
In my career, there's a mistake I made that ended up costing me quite some time. I decided to move to a company and was with them for about three years. However,  within the first year there, I knew I had made a mistake. I won't lie, the opportunity was a great financial move, but it came at such a big cost - my mental health.
Another mistake was failing to take the time to look at this company and where it was. If I had, I would have seen that there were so many red flags. 
So saying yes to opportunities is a good thing but don't make career mistakes by accepting them without having done your due diligence.
On whether there are opportunities I know I missed out on - yes. Then again, I am one of those people who say I am where I am supposed to be for a good reason.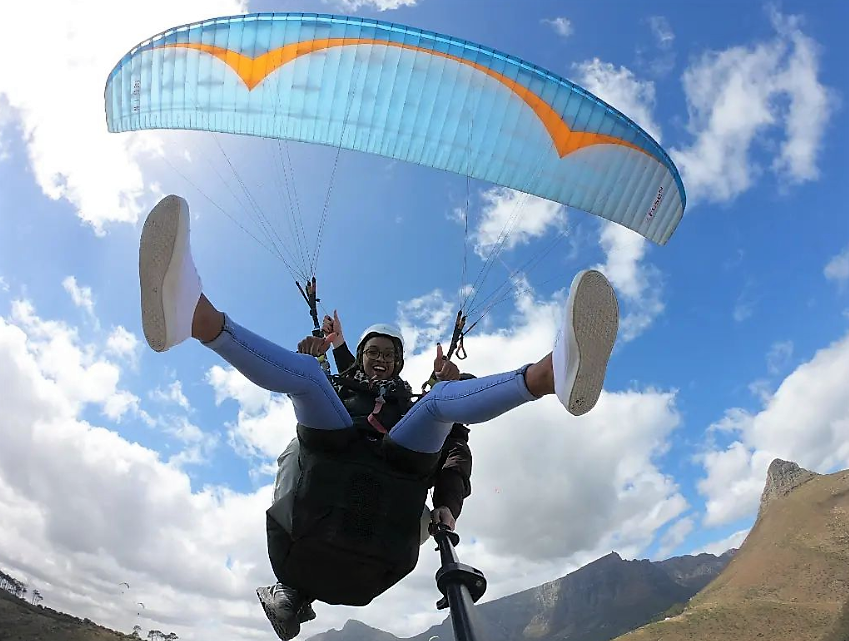 What's this red flag that made you realize you had made a mistake at that point and needed to get out of there?
If you're in the corporate space, there are several things that you look at, especially if you're seeking an environment where your skills will be valued, and you will learn and grow. Also somewhere that offers leadership and can progress your career through how they nurture you while also preparing you for your next phase. 
 Another thing is the presence of established management structures when it comes to roles and responsibilities allowing for a proper working environment. Without this, there is chaos and confusion. 
There's no point in going into a company without a growth plan, even if you are an intern. Look at what you've been offered; is there an opportunity for you to grow within the organization, and what does that look like? Do they offer leadership and mentorship opportunities as well?
Most of these red flags were there but I never once stopped to look at them. That's why you should do due diligence on an employer the same way they do for you - it goes both ways. 
What are your biggest career regrets? And I'm not talking about the time you made an embarrassing typo on an email. 
(Laughs) 
There are so many career mistakes that I've made. For example, by underselling my value, or not recognizing the value that I bring to the table You do yourself a disservice and may end up becoming miserable because you know exactly what you're capable of but you're not appreciated accordingly. 
My second-biggest career regret was not jumping on opportunities to further expand my knowledge when I should have. Back in the day before digital marketing became this huge thing, there was an opportunity for people within the marketing space to learn. I think I got very caught up in the day-to-day bits of my job that I never stopped to realize it was the right time for me to get certifications. By the time I decided to do all that, time had already passed. 
I would count that as a mistake that I would not allow myself to repeat. When I think about something relevant, I will try to equip myself with the knowledge to stand out in terms of the expertise I can offer as a marketing and communications person. 
Speaking of expertise, you've been in the construction industry for 11 years, that's quite a long time. What are some of the changes you've seen, and what does the future of that industry look like?  
It's an industry that a lot of people didn't understand how to market. Fast forward to now, and real estate, and construction manufacturing has grown significantly. Many publications have been birthed over the last 10 years positioning themselves as industry experts within the construction space. 
Generally, around the marketing side of things, the number of people who have gotten into the real estate, construction, and manufacturing, space has been very interesting to witness. The industry has also become very lucrative because a lot of people within that space internationally have come and set up shop in our continent due to demand for quality products.
The digital marketing space has exposed things that were inaccessible before and opened up the industry to a lot of people.
 
"When we hang onto the past, the future, our failures, and our regrets, it doesn't give us room to welcome better things. You just need to let go of your failures and hang onto the good things while pouring your energy into the present."
 
Going back to the topic of growth, how can one make themselves open to seeing opportunities instead of waiting for the right one? 
Identifying opportunities is unfortunately not one of those things that we're taught or that we grow up knowing. There's identifying opportunities and being open to them because there might be an opportunity but you're not open to it. A lot goes into identifying opportunities.  
 
Have a curious eye because, at some point, curiosity about how things run is going to land you somewhere. For example, if you are in an organization, find out how things work within every department and about the plans being developed say for the next quarter or something.
 
Network in any space you find yourself in. When we say networking, many people tend to think it's just when you're out there speaking to other people. However, networking could be in any setup, for example, within your friendship or work circles. It doesn't hurt to speak to people in other departments or circles than the ones you usually frequent. You might be very surprised to learn about things and identify opportunities even before they happen.
 
In our day-to-day, there are a lot of opportunities, and they do not lie in comfort zones. In any area that you find yourself comfortable, try and shake yourself off and venture more towards things that you don't know, even in terms of the material you interact with or consume. 
 
Also, losing an opportunity once because you were not ready for it does not mean you cannot be considered for it again. Work at it and try again and again until you get whatever it is that you want. This is another way of identifying or creating opportunities for ourselves. 

There is a fine line between putting a lot of expectations on yourself and striving to be the best you can be. How do you maintain a balance to avoid setting yourself up for failure?
One of the things I have had to ask myself at every stage of my life is, what relationship do I have with failure? I had to work on understanding and redefining this relationship until it got to a healthy place because it wasn't always the best one. When things would not go my way, I would beat myself up.
The whole process of picking yourself up and having the courage to go after the same things that you still want takes a lot of work. Getting to that place where you've struck a balance is a lot of work that you have to keep doing every day.
I also sought help in doing this, which is important to recognize. It could be in the form of a life coach or a therapist - whichever makes you comfortable. They'll help you to process and work through the things that make it difficult for you to move forward.  
You can only hang to regrets for quite some time. How do you change and channel them into a sense of purpose? 
I think a lot of people struggle with not living in the present. We are always either stuck on a future, which builds a lot of anxiety, or we are living in the past and we cannot change, but we fail to accept. Therefore, we are not able to channel proper energies into what we have been presented with or doing currently. 
When we hang onto the past, the future, our failures, and our regrets, it doesn't give us room to welcome better things. You just need to let go of your failures and hang onto the good things while pouring your energy into the present.
We are halfway through the year already and you come across as one of those people who start their year with resolutions. Are there any resolutions or goals that you had planned to meet and you haven't?
That's very interesting because I am not a resolutions kind of person (laughs). I usually just begin the year by keeping track and praying that the desires of my heart and those of the people in my life are met and those desires are going to keep shifting.
However, what counts as my biggest resolution is that I'm able to show up continuously as my most authentic self and that it never changes over the course of the year because of experiences or circumstances. 
Third, is that I am able to continue aligning and working towards my purpose, which becomes clearer and clearer the more I live and better understand myself.

You'll also like 11 end-of-year reflection questions to ask yourself